An international team of experts has issued a stark warning, projecting nearly five times the current fatalities due to extreme heat by the year 2050. The Lancet Countdown, a comprehensive annual evaluation by prominent researchers and institutions, asserts that the escalating use of fossil fuels poses multifaceted threats to human health. The report, released in the midst of what is anticipated to be the hottest year on record, emphasizes the critical need for action on climate change, declaring that the "health of humanity is at grave risk."
Among the myriad consequences of heightened fossil fuel use, lethal heat emerges as a significant concern, with the Lancet Countdown highlighting its impact on human health. The report underscores that this perilous situation is compounded by other ramifications, such as an increased risk of famine due to more frequent droughts, the expanded reach of disease-carrying mosquitoes, and the strain on healthcare systems grappling with these burdens.
This grim evaluation coincides with COP28 climate talks in Dubai, featuring a ground-breaking "health day" on December 3. Despite escalating calls for global intervention, the report notes that carbon emissions from energy sources reached record levels last year. It singles out substantial government subsidies and private bank investments in fossil fuels as persistent contributors to global warming.
A Crisis Amplifying a Crisis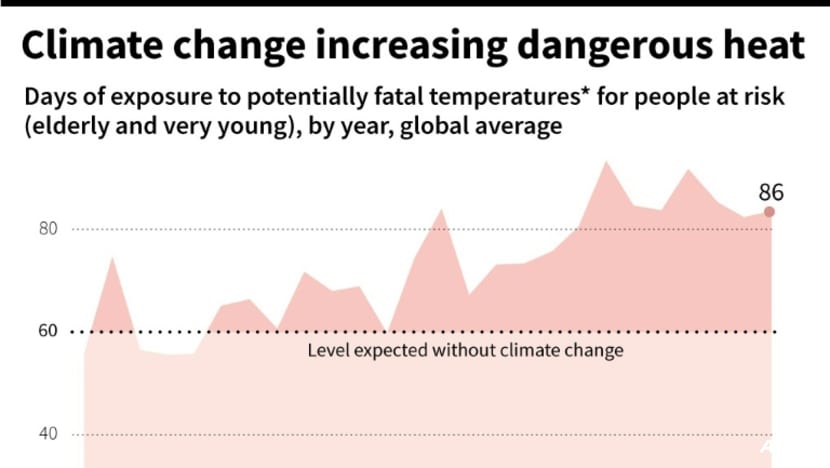 In the previous year, people globally faced an average of 86 days with life-threatening temperatures, with 60% of those days experiencing more than a twofold likelihood due to climate change. Notably, the Lancet Countdown study reveals that heat-related deaths among individuals aged over 65 increased by 85% from 1991-2000 to 2013-2022.
However, the report warns that these contemporary impacts could merely be harbingers of a perilous future. Under a scenario where global warming reaches two degrees Celsius by the century's end (currently tracking at 2.7 °C), annual heat-related deaths are projected to surge by 370% by 2050 – a fivefold increase. The report predicts that around 520 million additional people will experience moderate or severe food insecurity by mid-century.
Moreover, mosquito-borne infectious diseases are expected to extend into new regions, with dengue transmission increasing by 36% under a 2 °C warming scenario. Over a quarter of surveyed cities express concerns that their capacity to handle climate change impacts could be overwhelmed.
"We're facing a crisis on top of a crisis," notes Georgiana Gordon-Strachan from Lancet Countdown, pointing out that people in poorer countries, least responsible for greenhouse gas emissions, bear the brunt of health impacts.
Moving in the Wrong Direction
Tedros Adhanom Ghebreyesus, chief of the World Health Organization, emphasizes the imperative to limit warming to the Paris Agreement's 1.5 °C target as a "public health imperative." He laments the world's failure to reduce reliance on fossil fuels, leaving vulnerable communities behind in the essential energy transition.
The Lancet Countdown's Marina Romanello warns that without substantial progress in emissions reduction, the emphasis on health within climate change negotiations risks being mere rhetoric. Despite these challenges, the report highlights some positive signs, such as a 16% decrease in global deaths linked to air pollution from fossil fuels since 2005. Additionally, global investment in green energy rose by 15% to $1.6 trillion last year, surpassing the $1 trillion allocated to fossil fuels.
The report underscores the potential for preventing up to 12 million deaths annually and reducing emissions from dairy and red meat production by 57% if people transition to healthier, lower-carbon diets. While the situation is dire, these glimmers of hope suggest that concerted efforts towards sustainable practices and reduced carbon reliance could still alter the trajectory of the impending health crisis.
You've come this far…
Why not venture a little further into A.S.S. - our exclusive Australian Space Society. 
And keep thrusting Australia into the deep unknown…
#Space_Aus