Welcome to ARSE Digest as we take the most important images of space and technology from the past week and bring them to you in digestible nuggets. 
Earth via Rocket Lab' 'First Light'
Image credit: Rocket Lab
Rocket Lab's first Photon satellite snapped this photo of Earth after reaching orbit via an Electron rocket on August 30th. Their maiden satellite is mostly for demonstration purposes to show potential investors and customers what they can do. But will also be used to test technology for the young startup over the next 5 or 6 years in orbit. 
GREGOR telescope spots 'spots' on the Suns hard to spot surface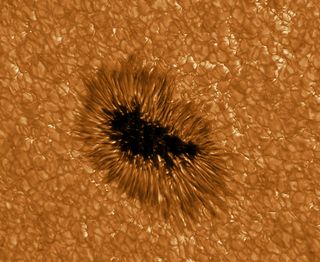 Image credit: KIS
Although it looks like an ocean of pre-popped popcorn, this is a 60km wide shot of our Sun's surface thanks to the GREGOR solar telescope. "This was a very exciting, but also extremely challenging project," Lucia Kleint, a scientist at the Leibniz Institute for Solar Physics in Freiburg, Germany and lead researcher on the project. In only one year we completely redesigned the optics, mechanics and electronics to achieve the best possible image quality." said Lucia Kleint, one of the German scientists from the Leibniz Institute for Solar Physics in Freiburg who just helped finish the upgrades.
NASA's Terra Satellite Tracks Californian Wildfires
Image credit: NASA/METI/AIST/Japan Space Systems
The above is a false colour map that helps illustrate the burn area of the California wildfires with vegetation in red and the burn area shown in black as of August 26th.
These maps are used to monitor the severity of current burn damage as well as smoke and ash coverage and to track the Monterey County fires movement, allowing proper hazard safety and evacuation procedures where needed.
Mars Plays Twister, Blink And You'll Miss It
Image credit: NASA/JPL-Caltech
Move over Helen Hunt and not so much Bill Paxton...
This GIF is from NASA's Mars Curiosity Rover as the good boy found a spinning dust devil moving through the 154km wide Gale Crater on August 9th. 
Did you catch it?
The mini-twister is at the top of the image moving from left to right with the filter making it seem like a ghostly spout. 
Image credit: ESA/DLR/FU Berlin, CC BY-SA 3.0 IGO
Without thinking (easier for some than others e.g. Flerfers), what does this look like to you?
A seriously bad infection?
A seriously old pizza?
It's seriously neither of those. 
It's a colour-coded topographic view of the Nereidum Mountain Range in Mars' southern hemisphere. The red is the higher peaks, whereas the deeper the colour gradient gets to blue is a decline in topographical height until the darker Argyre impact basin, one of the biggest on the planet. 
Starlink Stink 
Image credit: NSF's National Optical-Infrared Astronomy Research Laboratory/CTIO/AURA/DELVE
The Cerro Tololo Inter-American Observatory in Chile caught 19 streaking SpaceX Starlink satellites on November 2019. With the image just released, it paints the satellite constellation in a damning light once again for the astronomy world. 
SpaceX has launched batches of 60 satellites every few months since its first in May 2019 with the goal of creating a global network of over 30,000 in orbit. 
Cygnus Supernova Blast Wave
Image credit: ESA/Hubble & NASA, W. Blair; CC BY 4.0
This honey-brown wave of light spotted by the Hubble Telescope on September 1st is just a small part of the Cygnus supernova blastwave. The blast is from a supernova explosion that tore apart a dying star 20 times the size of our Sun between 10 to 20,000 years ago and approximately 2,400 light-years away.
SpaceX's 'Uber' Does The Hobbit: There And Back Again, Again...
Image credit: SpaceX
Another SpaceX Falcon 9 rocket has ferried payloads into orbit and returned the boosters safely back to Earth in their 15th launch this year on August 30th. 
The craft took the SAOCOM 1B Earth-observation radar satellite for Argentina and two small rideshare payloads from Cape Canaveral Air Force Station in Florida.
Which pic is your favourite this week?
let us know in comments and please share to spread the good word about Aussie space.
#Space_Aus
PS: We just unleashed our ARSE masks!
They're already running seriously low after our Space Society had first dibs, so grab one before they're gone...