An international climate think tank has discovered that Australia's methane emissions from coal mines are twice as high as official estimates, with some mines leaking up to 10 times more methane than reported.
The Lock the Gate Alliance commissioned the European researcher Ember to conduct an analysis of methane emissions from the Australian Greenhouse Emissions Information System (AGEIS), Clean Energy Regulator (CER), Australian Chief Economist, Department of Natural Resources and Mines, International Energy Agency (IEA), and the Global Energy Monitor.
Methane is a powerful greenhouse gas with a global warming potential 25 times higher than carbon dioxide.
According to the report, methane emissions from coal mines in Australia accounted for 68 percent of total industry emissions, more than oil and gas combined.
"What we found was that the methane leaking from Australian coal mines causes almost double the climate impact every year of all of Australia's cars," report author Dr Sabina Assan said.
"That's a really massive climate impact before we even start to think about the carbon dioxide emissions released from burning coal."
Ellie Smith, the Queensland coordinator for Lock the Gate, said the report had found that "there is massive under-reporting of methane emissions in Australia".
"So we're not taking into account all of these emissions in our national accounting framework," she said.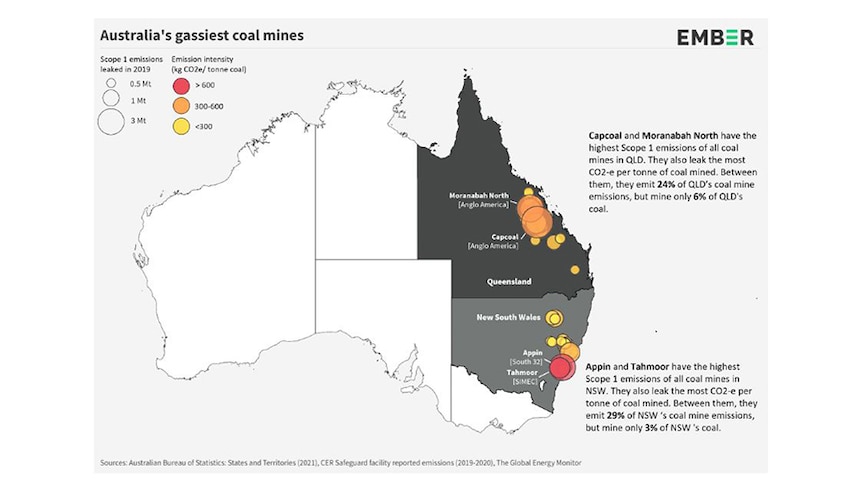 New IEA data revealed that Australian coal mines released 1.8 million tonnes of methane in 2021 - twice what was previously reported.
"The coal mine that stands out to everyone is Hail Creek open-pit mine, which has been found, I think, for four years in a row to be emitting almost 10 times as much as what is actually being reported by the mine," Dr Assan said.
Hail Creek coal mine is owned by Australia's largest coal producer, Glencore, and the company has previously told the ABC "it's not credible" that a single mine could be responsible for such a large amount of methane emissions.
"Glencore has an established track record of emission reduction," a Glencore spokesperson said.
"Over the past decade, our coal business in Australia has abated 28 million tonnes of CO2-equivalent by flaring waste gas or turning it into electricity."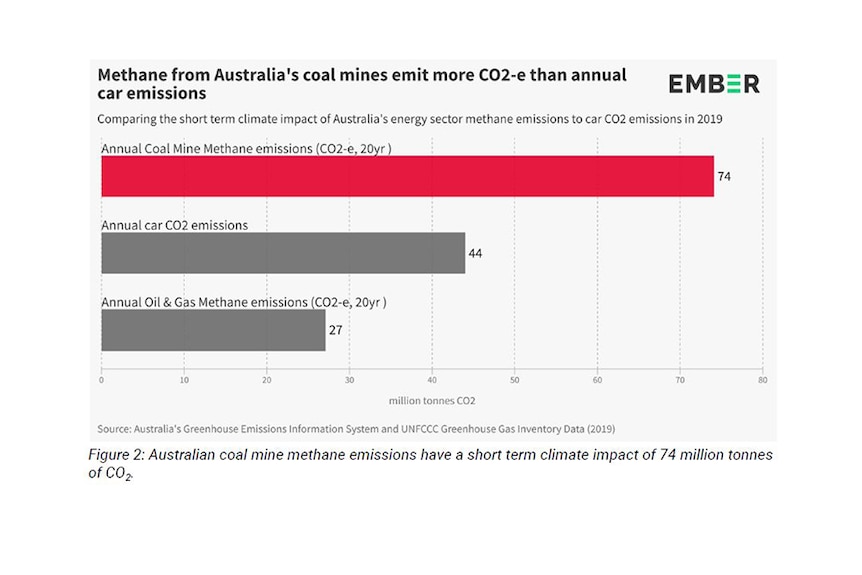 Glencore said emissions from all of its operations were accounted for in its "robust" climate targets.
"These targets include a 15 per cent reduction in total (including Scope 3) emissions by 2026 – a 50 per cent reduction in total emissions by 2035 and an ambition to be a net-zero total emissions company by 2050," a spokesperson said.
According to the Ember report, Anglo American operates some of the "gassiest" mines in Australia.
"We are actively working on technology solutions to further reduce methane emissions in our underground metallurgical coal mines, as part of our commitment to operate carbon neutral mines by 2040," an Anglo American spokesperson said.
Well, Australia?
What do we have to do to wake up?
#Space_Aus